MANLEY – Connecting Rods Set Honda B-Series – (I-Beam) Turbo Tuff
$1,395.00 – $1,790.00
available for orders up to $1,000.00 Learn More
Note
Images may be for reference only specific part may differ.
This product may only be available on backorder.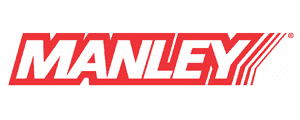 Description
Additional information
Description
B SERIES – PRO SERIES TURBO TUFF "I" BEAM STEEL CONNECTING RODS
Manley Pro Series connecting rods are forged from aircraft quality 4340 vacuum degassed material. Each rod is fully machined in the Manley Lakewood, NJ factory to the highest standards. Our signature "Turbo Tuff" design combines the appropriate weight and rugged strength for ultimate horsepower applications. Each rod is shot peened after machining and magnafluxed. Bores are round and without taper. Bend and twist is tightly controlled. Cap fasteners are 3/8″ APR 2000 cap screws.
Part #
Center-to-Center
Big End Bore
Big End Width
Pin Diameter
Pin Bore
Gram Weight
  Integra LS 1.8 non V-Tec DOHC ( B18A / B18B 1990-up )
14412-4
5.394″
1.890″
.935″
.827″ ( 21 mm )
.8281″
555
  Integra GSR 1.8 V-Tec DOHC ( B1BC 1994-up )
14414-4
5.433″
1.890″
.858″
.827″ ( 21 mm )
.8281″
547
  Honda 1.6 VTEC DOHC ( B16 1992-up )
14415-4
5.290″
1.890″
.935″
.827″ ( 21 mm )
.8281″
548
Additional information
| | |
| --- | --- |
| Engine | B18A/B, B18C, B16 |
| Bolt Upgrade | No, Yes (+$395) |
| Vehicle | |